I suppose I have been quite lucky when it comes to DIY jobs that need doing around the house.  Despite all of his faults my Ex was extremely good at DIY tasks and I also have a Father who is good at this type of thing too.  Ask either of them to make something and they could do it.  I put this down to their schooling.
My ex was 12 years older than me and was therefore in his secondary education during the 70's.  My Dad was schooled in the 50's.  Back then Girls learnt homemaking skills and Boys did woodwork.  There really was no crossover with what each gender was taught and these classes were compulsory.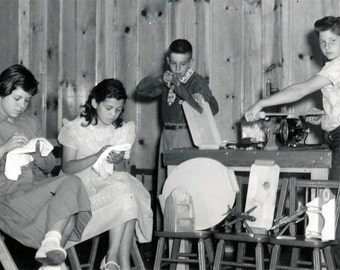 Fast forward to my secondary education in the 80's.  From the first year both sexes did cooking and both did woodwork.  As the range of 'art & tech' subjects were so much greater than in the schooling of my ex and Father the time spent of each subject was reduced as you also had to fit in Art, Fashion & Textiles, Pottery and metalwork. However, when it came to GCSE options none of the arts were compulsory.  In my honest opinion this has lead to the decline in skills of my generation and those after.  The number of people I know who are unable to cook a meal from scratch, sew on a button or do basic DIY such as putting up a shelf is quite shocking.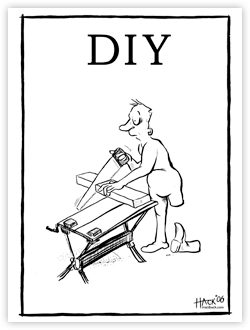 I will take my Brother as an example.  Three years younger than me and really has no idea how to do basic DIY tasks around the home.  Part of this is clearly down to education.  My Brother was not taught these skills and when he got a home of his own, my Father rushed to do all the jobs for him and still does.  He lives in a modern house with cavity walls and when his wife wanted a picture hanging he had no idea how to do it.  My Father ran to his aid.  I know he is not alone.
I must point out at this point that I am most certainly not saying boys should do woodwork and girls cookery & 'home making' skills.  I truly believe both sexes should do both and by the time they leave home should have these skills.  Both sexes should be able to cook a meal from scratch.  Both sexes should be able to do basic home maintenance.  Both sexes should be able to iron their clothes.  Both sexes should be able to sew on a button.
Now although my ex and Father could literally build anything I asked them to, actually getting them to do it was another thing.  Both of them would spend more time giving reasons why they couldn't do something than it actually took them to do it.  Over the years by assisting them both I have learnt a few things about 'wood working'.
Last July when we opened the shop I asked my Dad if he could find a easel type sign for me to put outside the shop.  He declared he could make one cheaper.  I said ok and gave him measurement for what I wanted.  Fast forward to last month when I am still waiting for the board.  I decided to make it myself.  Off I went on the Saturday morning with the kids to buy some wood.  Five minutes later and £6.47 lighter the kids wee walking down the road with a piece of 2 x 1 that was 4.5m long.  Down the high street they went and in to our shop.
Out came my saw and a left over piece of plywood from the window display stand.
Then my screwdriver and drill.
Finally, a new sign to put outside the shop.
I was absolutely amazed by some of the comments I received when I said I had made this sign.  People genuinely didn't believe me.  It was as if just because they didn't know where on earth to start, neither did anyone else of their age.
The fact I actually personally owned the tools to do this was a fact people were stunned by.
Why?
Why are people stunned that I own a drill, screwdriver and saw?
Why are they stunned I can actually use them?
I really believe these basic 'life skills' are being lost and I am certain that my children will not leave home without having the knowledge to cook, sew, put up a shelf, saw wood and use a screwdriver and drill.
Should these skills be taught in school?  If so many people of my age can't do such small simple jobs around the house, how are they going to teach their children?
Is cooking, sewing and DIY jobs becoming a dying art?  Is it simpler to pay someone to do these jobs for us or throw away clothes and buy new just because a button has fallen off? Yes, I do know somebody who did this.
Are you able to do little jobs around the house?
Will you be teaching your children these important life skills?
Linking up with #loudnproud because i'm proud of my ability to be able to do something like this all by myself.